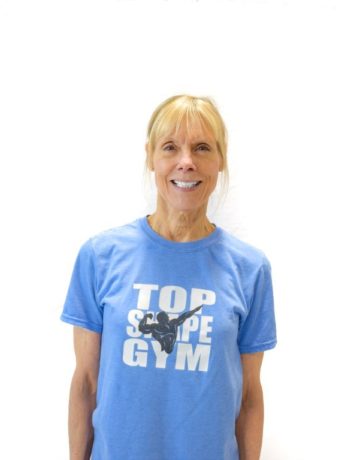 Kate
Cedar Rapids
Biography:
My fitness journey began in January of 1979 when I started Tae Kwon-Do under Korean Grandmaster Woo Jin Jung at Jung's TKD Academy in Cedar Rapids.
In 1980 Master Jung opened New Life Fitness World, a fitness facility, along with the TKD Academy. I practiced the Martial Art for approximately 12 years, achieving the rank of 4th Degree Black Belt, also teaching TKD classes at different branch schools for 4+ years.
Eventually I began teaching various "Aerobic" classes at New Life Fitness World in 1991, now referred to as "Group Fitness Classes".
In January of 2003 I began working for ASPEN Athletic Clubs as a Personal Trainer & Group Fitness Instructor which first opened at Westdale Mall as a pre-sale site, before opening on February 19, 2003 at our current location, now known as Top Shape Gym.
Certifications include: AFAA, Yoga, Pilates, Kickboxing, Les Mills Body Pump, LeMonde Cycling, SilverSneakers Cardio, Strength, & YogaStretch, CPR, along with BodyBugg & dotFIT nutrition & weight management certifications.
My passion is helping people of all ages, fitness levels, & walks of life achieve their health & fitness goals, whatever they may be. And to make exercise & proper nutrition a way of life in order to be as independent as long as possible, & to have the best quality of life along the way.
As the sayings go, "Health is wealth", "Good health is your greatest asset", and "Exercise adds years to your life, & life to your years". Amen!